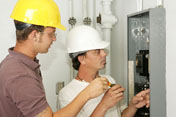 Geveden Industrial, Inc. has been in buisness for 7 years. We are currently closing our a project for Varian Medical Systems in Tacoma, WA at Madigan Army Medical Center where we renovated a cancer treatment vault and installed a new Silhouette Cancer Treatment Machine as well as completing ongoing projects at Colusa Casino Resort to include HV Gaming Expansion and Engine 5. We have also completed work for Delaware Municipal Power in Dover, Delaware. We have bonding capability of approximately $2+ million, excellent credit and D&B ratings with bank credit lines up to $1 million based on contracted values of work.
Bruce Geveden's experience/expertise has been in the heavy industrial electrical arena for the past 15 years. He has consulted on many projects as well as being responsible for numerous large projects, including Red Bluff #1 which was a 50 megawatt 16 engine installation; completed in 120 days. We have recently added Ted Tripp to our staff to handle all of the mechanical needs required during our projects, and we are continually growing in that area as well.
Geveden has 16 AWS, ASME qualified welding procedures as well as a QA/QC manual for the control of code material and welds.
We have the latest edition of the NBIC code books and we will be getting the new addition of the ASME B31.1 code book. We also have a safety manual with confined space entry forms.
We have an NDE "non destructive testing" company that we use for all our X-ray requirements as well as any stress relieving that may be necessary for power piping. This is any piping after the first valve off of the pressure vessel.
We are OSHPD certified & compliant.